What a great weekend it turned out to be, I had traffic trouble on the way which meant it was gathering gloom by the time I got there. Daves 'ample' room turned out to be only just big enough for all the vehicles and I ended up in a corner wedged between a previous fire and pile of erm.. something mucky.
The tent hadn't seen the light of day for almost 10 years, all the elastics in the poles were 10 foot long and I had to pull loads out and re knot them, then I had to try and remember how the tent went together.
I loaded the bed into it and blew it up then added sleeping bags and an extra one as a duvet.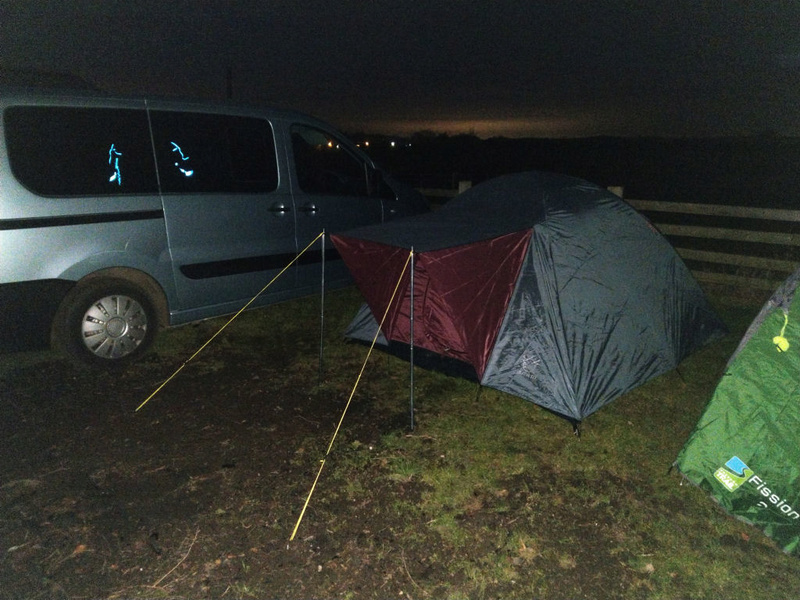 Absolutely starving by now, the rest of the guys had long since fecked off to the pub so once Ardee and Mike had set up their home, we toddled off to find them and then left to find some foreign food.
We had a great meal in a local Chinese then returned to the pub to talk two stroke bollox with the rest of the guys.
Around half eleven, the rest of the pub now empty we got a hint from the landlady who was pacing around the bar in her coat! And we duly left and headed back to camp.
It seemed too early for bed and Ardee had the foresight to bake a chocolate cake so we all stood around laughing and talking while having cakey and beer for another hour or so.
Eventually it was time for bed, I had come armed with a secret weapon hot water bottle so duly filled the kettle and set it going on the stove. But just a minute later I noticed it had gone out. Damn.
There was a spare canister in the bikebus, which turned out to be about 2" longer than would fit in the stove, double damn!
Anyhow, I managed to stay fairly warm without it but had to get up fairly early to empty a bursting bladder. There was frost over the tent and the bikes that had slept out for the night.
I found haggler already up with a cuppa in hand. With no gas I couldn't make one myself nor make the all day breakfast I had brought so I had to go and use Dave's facilities in the workshop.
Eventually more and more people arose and arrived and a little later than planned, the rideout got together.
I moved the Bikebus onto Dave's gravel drive so as not to get blocked in.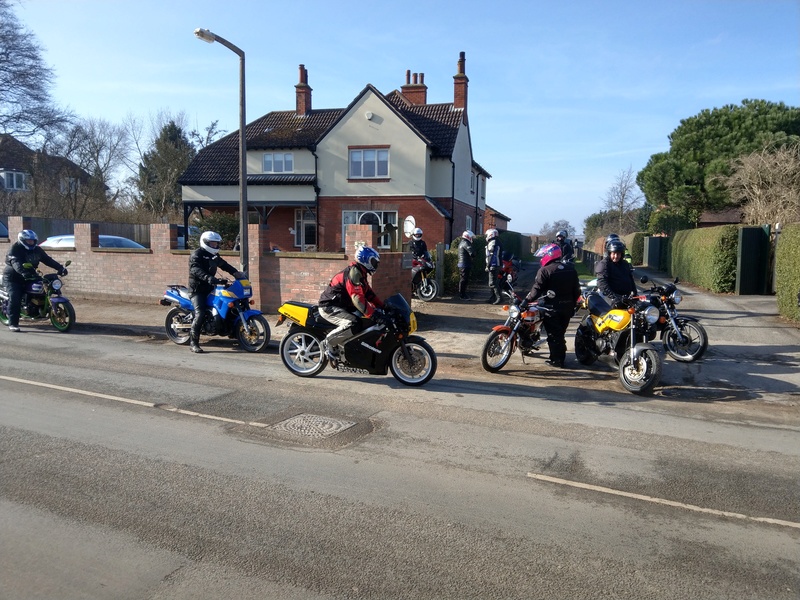 While trying to filter past the inevitable traffic queue in Malton I could suddenly hear raised voices, much shouting and remonstrating just ahead, it turned out to be Dave Mutts and Parky taking issue with a guy in a merc who had tried to push wide and stop the bikes filtering then managed to run over Dave's foot.
The argument spilled over into Morrison's car park where there was much finger pointing and tongue lashing before the protagonists cooled down and went their ways.
The rideout got moving again and finally able to move along without feet and clutch use we started to make some good progress north to Pickering then turned right towards Scarborough. The A170 is a fast road broken by small and quaint villages with severe speed limits, and as is pretty common, a Police van with camera.
Heading east into the prevailing wind I realised that I hadn't secured the top of my jacket and freezing cold air was getting in. There was no way of grabbing the zip and tag with my oversized gloves so I had to grinand bear it or stop and get left behind. I stuck it out.
Dave led us up to the north bay but carried on to the middle of nowhere and pulled into the Oasis Cafe (again).
I hate this place, it is nowhere, there is nothing there except the cafe and the food is lousy. It took almost 15 mins to get a baked tater, and I had to complain to get it even then since they had served everyone else after me and the place was now queue less.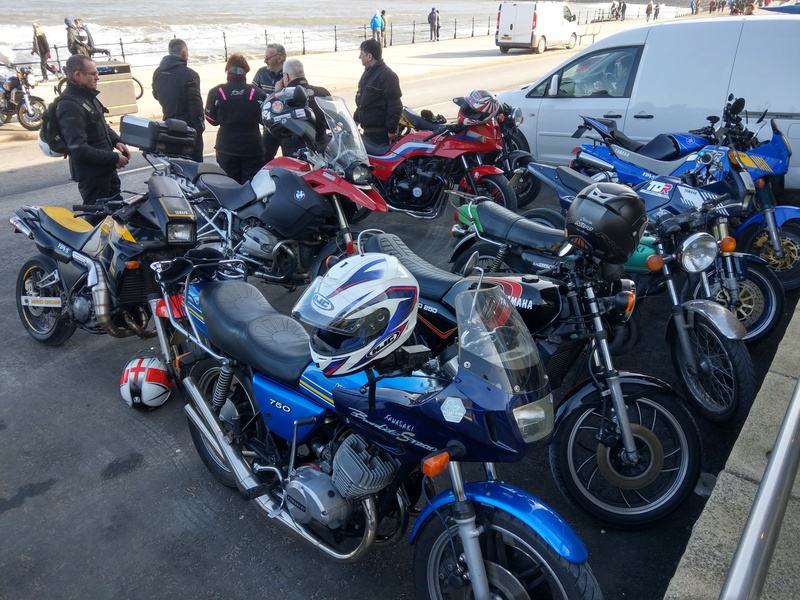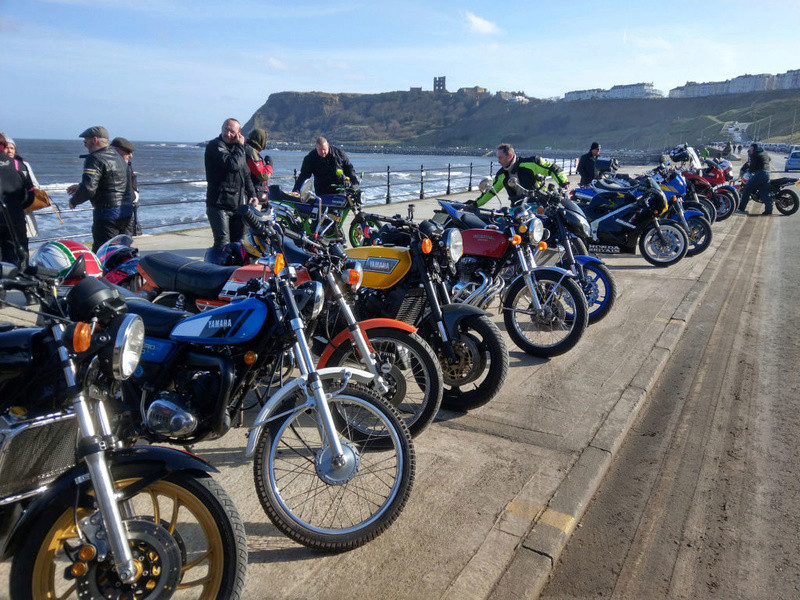 There was a stiff breeze which felt sub zero, but despite the cold, people were still getting Kayaks and surfboards off their cars and going into the sea. I told one couple that they must be "madder than us".. and they agreed!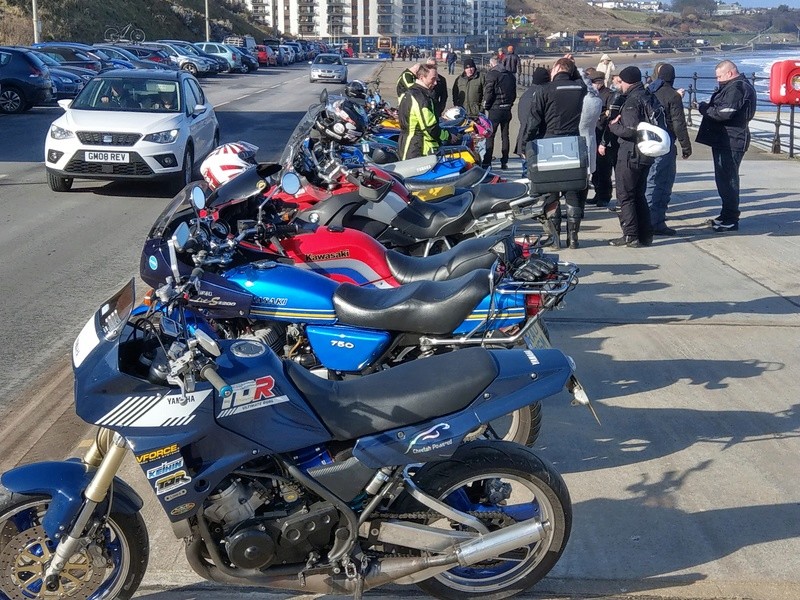 Several line up pictures were taken and the bikes shuffled around for more. Eventually we set off back via the south bay, where there are shops, restaurants, places to hide and get warm and better food.. Grrrr
Riding back was a bit better with the wind behind us. As soon as we got back to Dave's I pulled in behind the Bikebus on Dave's gravel Drive ready to load up.
Moving the bike in the gravel was almost impossible, Mick858 had to help me just turn it around, and I then had to use the winch to move it in a Bikebusley direction.
But that was my Rally over as I had a family gathering for Sat night.
You'll have to look elsewhere for the Saturday night shenanigans.
I picked up with Phil Swiv, Haggler and Mick858 for breakfast at Jems on Sunday, while waiting for them to arrive, I ticked another item off the bucket list and had my first Tattoo.
So, to all those that didn't/couldn't go.. Hoho.. you don't know what you missed! I can't wait to get together again, and even the next years Minus 2 Stroke Rally, I'll double check that gas next time.
Ardee! more Cakey please!