Doing some serious work to the S1 I noticed that there was a pool of oil appearing both in the Carb well and on the floor below the centre cylinder.
Triples Oil Pipes have a Non Return Valve in the Banjos, some later types were able to be dismantled, this type were thought to be un repairable. Until now!
I've got the Oil Pipes off and checked their leakage by simply hanging them up.
The left and right ones had half emptied in about 24 hrs. The centre one however, just poured out unrestricted.
Now these are the ones where there is a piece of red tube crimped onto the banjo neck by a steel collar and not the normal ones to disassemble.
Disassembly could easily break the Red tube meaning that the Oil line will need a major repair or is possibly scrap, so it's a last resort repair.
So first thing was to gently tap that steel collar back from the Banjo using a flat blade screwdriver and working around the collar with gentle taps.
The Red Tube underneath one of them was cracked and split after 40 odd years, it had also locked onto the grooves of the Banjo neck making it very difficult to pull back (the splits helped release it though), I put the Banjo into a soft jaw vice and gripped the red tube with pliers to put some outward force on it then teased the cracks or splits over the ridges until it pulled off the neck.
Once the Banjo was separated from the pipe, a little ridge could be seen at the last 2mm of the neck and gripping this end piece allowed it to be pulled out, carefully so that the ball and spring didn't catapult out behind it.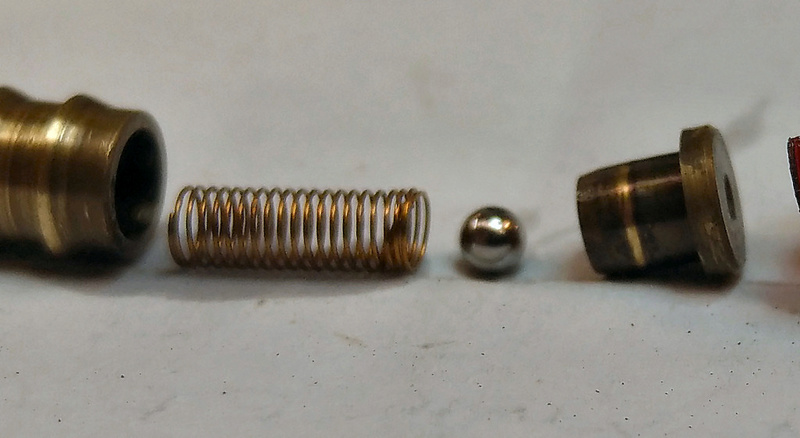 I had to re dress the spring as the very end which is a smaller diameter to hold the ball central had caved in as can be seen in the pictures.
Putting it back was a simple reversal of the process taking care again with that red tube, I degreased it all and then added some Silicone Sealant to help seal the cracks. And lastly just tapped the collar back down very carefully while dressing the red tube where it was wanting to lift.
The outer two were in better condition and needed a small cut in the plastic to be able to release the Banjo, both springs were 12mm long I teased them out to 14mm without spraining them.
Then rebuilt every thing. Only time will tell.